Maple Grove offers worship service every Sunday at 11:15 am, with special services throughout the year.  Our Sunday service is very personable with an emphasis on supporting the needs of the congregation and praising our Lord through personal declarations of life's blessings, exciting musical performances, conversational and meaningful prayer, and inspiring and relevant sermons for the times.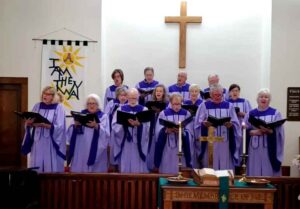 While culture is rapidly changing around us, it is a powerful reality that Maple Grove UMC is called to faithfully proclaim the life changing grace of God in both word and deed.  Whether you are a young or old believer, a new or experienced believer, a Methodist or a non-Methodist, Maple Grove's worship service will consistently meet your spiritual and personal needs!
The Maple Grove Chancel Choir enriches our services and welcomes you to "make a joyful noise unto the Lord!"  They are a diversely talented group of people who love music, ranging from non-music readers to nearly professional members.  All are welcome to join and apply their talents to God's glory while enjoying the fun.  They sing a wide variety of music, from traditional hymn arrangements to blended worship and some Southern Gospel.  Choir groups include Chancel Choir, Women's Choir, Men's Choir, Instrumental Ensemble, Men's Quartet, and Men's Trio.  These include a wide range of vocal soloists of all ages.  All members of the choir are encouraged to express their special musical talents throughout the year in music and/or drama.
Along with the Word
in song, we have a variety of talented singers and instrumentalists who perform solos, ensemble anthems, and added accompaniment to the choral anthems, prelude, and offertory, as well as congregational hymns.
Our Choral Director, Carol Gore, has led the Maple Grove Choir for a number of years.  Her philosophy is to praise the Lord through music and have great fun doing it.  She has led a number of choral workshops in both Haywood and Macon Counties.  The Maple Grove choir joins Carol in her workshops and sings the variety of new music that she presents.
Believing that music is an integral part of Maple Grove's worship service, we invite you to come and be part of our church family.
If you are unable to attend services, you can still receive their spiritual benefit by viewing the services ONLINE.
If you would like to participate more fully in our fellowship, click HERE to let us know of your interest.