To be and to make disciples of
Jesus Christ through God's Word, love, and service
SUNDAY SERVICE AT 11:00 A.M.
If you are looking for a small, friendly church where you can truly enjoy praising your Savior, become active in doing the work of His church while at the same time enjoying fellowship with friendly, interesting Christians who support each other in a close Christian family fashion, welcome to Maple Grove United Methodist Church, known as the friendliest and most accessible little church in Waynesville. We welcome all; Maple Grove UMC is a "Lighthouse Church". A Lighthouse Church is a United Methodist faith community that serves as a sanctuary for those who have left their churches after a disaffiliation vote and wish to retain their affiliation with the United Methodist Church.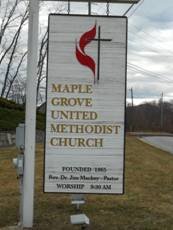 If you have driven our busiest street, Russ Avenue, you probably did not miss us on the hill beckoning you to turn into our parking lot and take a better look! Many of our visitors have told us how they just had to look further when they caught the breathtaking view of our stately church sitting on its beautifully landscaped hill with a large cemetery in full view in the background.
The warm, friendly atmosphere within the church walls perfectly complements the outward welcoming appearance of Maple Grove. Whoever enters our front door knows that the Holy Spirit is present and recognizes that God's people within are a very special loving, caring bunch who are true disciples of Jesus Christ!
We are a small church with a big heart, presenting a forceful biblical and musical message, the likes of which is not to be missed! We are especially known for our powerful music program with an enthusiastic choir that is directed by our very talented and creative choir director.
Our Adult Sunday School classes are each very individualistic in their approach with specific curricula and teaching styles meeting the divergent needs of our congregants and visitors.
You will feel like you have made new friends after your first visit to Maple Grove! And each month, on the second Sunday after service, you will have the opportunity to get to know them much better at the 'Potluck Luncheon". And if that's not enough, join us for a "Goodtimer's", United Women of Faith (formerly United Methodist Women), or United Methodist Men's meeting or activity.